GSB casino
Slots/Games -

9.5/10

Bonuses and Promotions -

9.3/10

Deposits and Withdrawals -

9.1/10

Mobile App -

7.5/10

Customer Support -

9/10
Gal Sport Betting (GSB) Casino Uganda is a popular online casino that offers a wide range of games, including slots, table games, and live dealer games. Established in 2019, the casino is licensed by the Ugandan government and employs advanced security measures to protect players' personal and financial information. GSB Casino Uganda also offers a variety of payment options, fast and reliable withdrawals, and excellent customer support via email, phone, and live chat. In addition to a generous welcome bonus, the casino also runs regular promotions and tournaments for its players. With a user-friendly website and a seamless mobile experience, GSB Casino Uganda is a great choice for players looking for an exciting and reliable online casino in Uganda.
Website
The GSB Casino Uganda website has a modern and user-friendly design that is easy to navigate. The color scheme is predominantly black and yellow, with white text and graphics, giving the site a sleek and professional look.
The homepage features a banner at the top, highlighting the latest promotions and bonuses available to players. Below the banner, there is a menu bar that allows players to navigate to different sections of the website. Including casinos, sportsbooks, virtual sports, and promotions. The website also features a search bar that players can use to quickly find specific games or events.
The casino section of the website is well-organized, with games arranged into categories such as slots, table games, and live casino games. Players can easily filter games by provider, popularity, and alphabetically, making it easy to find their favorite games. Each game is accompanied by a thumbnail image and a brief description, providing players with a preview of the game before they start playing.
The website is optimized for both desktop and mobile devices, with a responsive design that adjusts to fit the screen size of the device being used. The mobile version of the website features a simplified layout, with a menu bar located at the bottom of the screen for easy navigation.
GSB Types of Games
GSB Casino Uganda offers a wide variety of games to cater to the diverse interests and preferences of its esteemed patrons. Here are some of the popular game types you can expect to find at GSB Casino:
Slot Machines
GSB Casino features an extensive collection of slot machines, ranging from classic three-reel slots to modern video slots with immersive themes and exciting bonus features. Whether you prefer traditional fruit machines or cutting-edge interactive games, the slot floor at GSB Casino offers endless possibilities for both casual players and high rollers.
Table Games
For those who enjoy the thrill of traditional table games, GSB Casino provides a range of options. You can test your luck and skills at classic favorites such as blackjack, roulette, baccarat, and poker variations. Whether you're a seasoned pro or a beginner, our professional dealers are there to guide you through the game and ensure an engaging experience.
Live Casino Games
GSB Casino Uganda has a dedicated section for live casino games, where players can enjoy an authentic casino experience from the comfort of their own home. The live casino games are hosted by professional dealers and streamed in high definition to provide an immersive gaming experience. Some of the popular live casino games available in this casino include live blackjack, live roulette, and live baccarat.
Sports Betting
GSB Casino recognizes the popularity of sports betting and offers a comprehensive sportsbook. Here, you can place bets on a wide range of sports events, including football, basketball, tennis, cricket, and more. With competitive odds, live betting options, and an immersive viewing experience, GSB Casino provides an exciting platform for sports enthusiasts to engage with their favorite teams and athletes.
Virtual Sports
GSB Casino also embraces the emerging trend of virtual gaming, where players can enjoy simulated versions of various sports, races, and other virtual events. Virtual gaming combines cutting-edge technology with the thrill of betting, offering a unique and immersive experience.
GSB Casino Uganda Bonuses and Promotions
First Deposit Bonus

Unlock the exciting opportunity to receive a whopping 500,000 UGX Bonus! It's as simple as following these steps:
Register at gsb.ug Embark on your thrilling journey by signing up at gsb.ug. It's quick, easy, and sets the stage for the fantastic bonuses that await you.
Make your first deposit! Fuel your gaming adventure by making your first deposit. The more you deposit, the greater your chances of maximizing the bonus rewards.
Bet & Get the bonus! Get ready to dive into the action! Place your bets and watch as the excitement unfolds. Once you meet the conditions outlined below, the bonus will be yours for the taking.
Terms & Conditions: Don't miss out on this incredible opportunity, valid until 31/12/2023. Here's what you need to know:
Bonus Name: First Deposit Bonus
Bonus Amount: Enjoy a generous 100% bonus on your first deposit, up to a maximum of UGX 500,000.
Conditions to get the bonus:
3 rollovers: Take your gaming experience to the next level by completing three rollovers.
Minimum 5 selections: Embrace the thrill of variety with a minimum of five selections.
Minimum odd per selection: Each selection must have a minimum odd of 1.5 to qualify.
Rollover details: Your rollover amount is equivalent to your deposit. Each bet you place will contribute towards the rollover, up to the total rollover (deposit) amount. For example, if you deposit 5,000 UGX and your bet stake is 7,000 UGX, 5,000 UGX will contribute to the rollover.
Keep in mind:
Bets must be placed on different matches to count towards the rollovers for the bonus. If you bet on the same game, it won't be counted.
Prize: After completing the three turnovers, you'll receive a sensational 100% bonus of your deposit, up to a maximum of UGX 500,000, directly added to your account balance.
The bonus will be automatically credited to your account once you finish registering and fill in the required profile details. Don't miss out on this limited-time opportunity to grab the incredible 500,000 UGX Bonus. Register, deposit, and get ready to unleash the full potential of your gaming experience!
Refund Bonus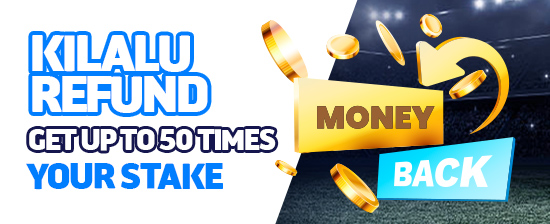 Introducing our game-changing "Refund Bonus" offer! We understand that losing just one bet can be disheartening, so we're here to take the risk out of betting and give you an opportunity to bounce back with your remaining winning bets.
Place a bet with 2 or more selections. The more selections, the more chances for a successful outcome.
Ensure that the total odds per bet are higher than 25. This ensures you have a solid potential for a significant win.
Get a refund! Check the table in the terms and conditions below to see how the refund amount is determined.
Don't let one game ruin your entire ticket! At Gal Sport Betting, we value our punters and understand the disappointment of losing due to a single game. Unlike other bookies who would simply keep your money, we offer a fair refund policy.
Imagine you placed a 10-game accumulator with a stake of UGX 10,000, hoping to win UGX 2,000,000. Unfortunately, one game spoils your bet with odds of 2.00. Here's how we calculate your refund:
Apart from the losing game, let's say your accumulated odds were 100.00. In this case, we will pay you 5 times your stake, which amounts to UGX 50,000 (5 x 10,000). We will promptly credit this amount into your account.
To qualify for this reward, your bet must be an accumulator of 2 games or more, with all games won except for one. The refund amount is determined based on the table below, taking into account the minimum number of matches, minimum odds of the winning team, and the corresponding refund times on your stake.
| Minimum Matches | Minimum Lost | Odds Excluding Losing Team | Refund Times On Stake |
| --- | --- | --- | --- |
| 2 | 1 | 25+ | 1 x Stakes |
| 2 | 1 | 45+ | 2 x Stakes |
| 2 | 1 | 60+ | 3 x Stakes |
| 2 | 1 | 90+ | 5 x Stakes |
| 2 | 1 | 450+ | 10 x Stakes |
| 2 | 1 | 750+ | 50 x Stakes |
Don't let a single game spoil your excitement. Take advantage of our Refund Bonus offer and increase your chances of recovering some winnings even when one selection lets you down. Start betting with confidence at Gal Sport Betting today!
Software Providers
GSB Casino Uganda partners with renowned software providers to offer a top-notch gaming experience to its patrons. Among the esteemed providers associated with GSB Casino are 1X2 Gaming, EvoPlay, Fugaso, and Wazdan. Here's a brief overview of each software provider:
1X2 Gaming: Known for their innovative and engaging casino games, 1X2 Gaming brings a diverse portfolio to GSB Casino Uganda. They offer a range of slots, table games, virtual sports, and more. With their focus on immersive visuals, exciting gameplay features, and user-friendly interfaces, 1X2 Gaming titles ensure an enjoyable gaming experience.
EvoPlay: EvoPlay is a leading provider of cutting-edge gaming solutions, specializing in the development of visually stunning slots and casino games. Their portfolio includes a wide range of titles with captivating themes, impressive graphics, and unique bonus features. EvoPlay's commitment to delivering high-quality gaming content aligns perfectly with GSB Casino's pursuit of excellence.
Fugaso: Fugaso, which stands for Future Gaming Solutions, is a prominent software provider recognized for its high-quality casino games. Their portfolio features a diverse range of slots, table games, and progressive jackpots that boast exceptional graphics, immersive sound effects, and exciting gameplay mechanics. Fugaso's commitment to innovation and player satisfaction makes them a valuable partner for GSB Casino Uganda.
Wazdan: Wazdan is a leading provider of online casino software known for its innovative approach and cutting-edge technology. Their games are characterized by stunning graphics, immersive themes, and a wide range of features, including unique bonus rounds and customizable gameplay settings. With a commitment to delivering high-quality and player-centric gaming experiences, Wazdan enriches GSB Casino's offerings.
Mobile Version and App
Introducing the Galsport Betting Uganda Mobile app, tailored specifically for Android users. Getting started is a breeze – simply download and install the app, approve the security policy, and you're all set to begin your betting adventure! Enjoy the convenience and excitement of betting on the go with ease. Get the app now and start winning!
Payment Methods
GSB Casino Uganda offers a variety of payment methods for its players to make deposits and withdrawals, ensuring a seamless and convenient gaming experience. Here's an overview of the payment methods:
Deposit Methods:
Mobile Money: Players can make deposits using mobile money services, such as MTN Mobile Money and Airtel Money. The minimum deposit amount for mobile money is UGX 1,000, and deposits are processed instantly.
Shop Cash: To deposit funds using Shop Cash, you can follow these simple steps. First, visit any of our shops to initiate the deposit process. Once there, make sure to have your CUSTOMER ID on hand, which you can easily find by clicking on the "My Account" option located at the top of the page. After providing your CUSTOMER ID, you will receive a receipt that includes a unique TRANSFER CODE. Finally, navigate to the Deposit page and locate the Shop Cash menu, where you can enter the TRANSFER CODE from your receipt.
Withdrawal Methods:
Withdrawal in Shop: First, log in to your account and navigate to the withdrawal section. From there, select the specific shop where you would like to make the withdrawal. Enter the amount you wish to withdraw, along with your password for authentication. Once you have filled in the necessary details, click on the "Request Withdraw" button to proceed with the withdrawal process. Shortly after, you will receive a message on your phone containing a unique withdraw transfer code. When you're ready, visit the nearest shop and provide the cashier or manager with your user ID, the amount you want to withdraw, and the withdraw code received on your phone.
Mobile Money: Withdrawals can also be made via mobile money services, such as MTN and Airtel, with a minimum withdrawal amount of UGX 5,000. Withdrawals are processed within 24 hours.
Customer Support
GSB Casino Uganda offers customer support to its players via several channels, ensuring that players can get the help they need quickly and efficiently. Here are the customer support options available:
Live Chat: GSB Casino Uganda offers a live chat feature, which is accessible directly from the website. Players can chat with a customer support agent in real-time, allowing for quick and efficient resolution of any issues or queries.
Email Support: Players can also reach out to GSB Casino Uganda's customer support team via email. The email address is available on the website, and responses are typically provided within 24 hours.
Phone Support: For urgent issues, players can contact GSB Casino Uganda's customer support team via phone. The phone number is available on the website and is staffed by trained customer support agents.
Social Media: GSB Casino Uganda also maintains active social media accounts, including Facebook and Twitter, which can be used to reach out to the customer support team.
Registration Process
The registration process is simple and straightforward and can be completed in just a few steps. Here's an overview of the registration process:
Go to the GSB Casino Uganda website: Start by visiting the website using a web browser on your desktop or mobile device.
Click on "Register": Once you're on the website, click on the "Register" button, which is typically located in the top right corner of the page.
Fill in the registration form: You'll be asked to provide some basic information, such as your name, email address, and date of birth. You'll also need to create a username and password.
Confirm your account: After submitting the registration form, you'll receive an email from GSB Casino Uganda with a link to confirm your account. Click on the link to confirm your account and start playing.
It's important to note that in order to play, players must be at least 18 years of age and reside in Uganda. Players may be required to provide additional verification documents. Such as a copy of their ID card or passport, to confirm their identity and age.
Conclusion
In conclusion, GSB Uganda is a popular online casino that offers a wide variety of games, generous promotions, and a user-friendly platform. The casino is licensed by the Ugandan government and employs top-notch security measures to protect players' personal and financial information. With a range of payment options, excellent customer support, and a seamless mobile experience, this casino is a great choice for players in Uganda.