Fortebet
Games/Slots -

9.1/10

Bonuses and Promotions -

7/10

Deposits and Withdrawals -

9/10

Mobile App -

5.9/10

Customer Support -

9/10
Fortebet Uganda is a prominent online casino that was established in 2014. The platform is licensed and regulated by the National Gaming Board of Uganda, ensuring that all its operations are legal and transparent. Fortebet Uganda also uses advanced encryption technology to safeguard the personal and financial information of its users, ensuring that their data is protected at all times.
One of the key highlights of Fortebet Uganda is its extensive range of sports betting offerings. Users can choose from a wide selection of sports, including football, basketball, tennis, cricket, and rugby, among others. The platform also offers a variety of betting options, including live betting, virtual sports, and jackpot games.
Another important fact about Fortebet Casino is its commitment to responsible gambling. The platform provides tools and resources to help users gamble responsibly and manage their betting habits. Additionally, Fortebet Uganda has a customer support team that is available 24/7 to assist users with any questions or concerns they may have.
Fortebet Uganda Website
Fortebet Casino has a website with a modern and clean design, with a user-friendly interface that allows users to navigate through the site easily. The website is optimized for mobile devices, making it accessible to users on the go. The homepage features current live events and upcoming matches, and users can quickly access their betting slips, account information, and customer support from the top menu.
The color scheme of the website is predominantly red and white, with black and grey accents. This creates a bold and striking look, making the website visually appealing and easy to read. The website's typography is also easy to read, with clear and concise headings, making it easy for users to find what they are looking for.
The functionality of the website is also impressive, with fast loading times and a responsive design that adapts to different screen sizes. Users can easily browse through the different sports and betting options available, place bets, and view their betting history. The website also features a live betting section, where users can bet on games as they unfold.
The user experience of the Fortebet Uganda website is excellent, with all the necessary information easily accessible and the betting process streamlined for ease of use. The website is also available in multiple languages, making it accessible to users who prefer to use other languages.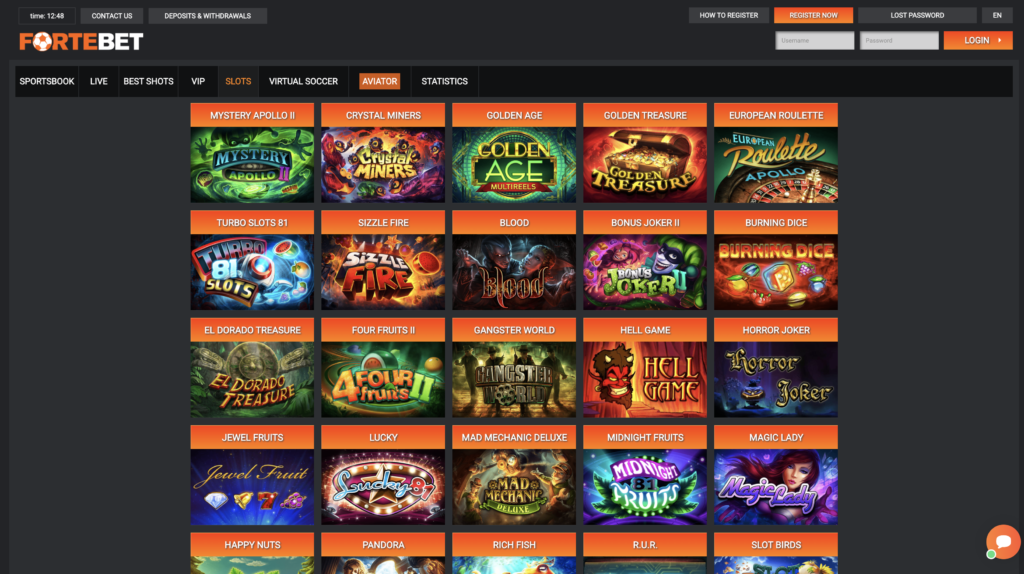 Fortebet Uganda Types of Games
Fortebet Uganda also offers a variety of casino games for users who enjoy playing online casino games. The platform features an impressive selection of classic casino games, including slots, table games, and video poker. In this section, we will discuss the different types of casino games available on Fortebet Uganda.
Slots
Welcome to Fortebet Online Casino, the ultimate destination for gambling enthusiasts seeking captivating entertainment.
At Fortebet, players can immerse themselves in a thrilling gaming experience, with a current focus on an extensive collection of exhilarating slot games. To embark on your gambling adventure, follow these simple steps:
Visit the official website of Fortebet and access your account by logging in.
Fund your gaming account by topping up the balance, as the casino operates without a demo mode.
Navigate to the top menu and click on "Slots" to explore the wide array of slot games available.
Select a slot game that piques your interest from the impressive selection of 40 different options, including popular titles like "Golden Age," "European Roulette," "Turbo Slots 81," "Burning Dice," "Four Fruits 3," "Lucky," "Rich Fish," and "Sunset Hotline."
Before you begin, take a moment to familiarize yourself with the rules of your chosen slot game. Once you feel confident, go ahead and start spinning the reels for an unforgettable gaming experience.
Fortebet VIP Program
To become a member Register at Fortebet

Once you register, you will become a member of our VIP Club, granting you access to exclusive promotions! Each time you place a bet, your account will be rewarded with VIP points.
Here's how you can earn points: Simply place a bet either through our online platform or at one of our physical branches, using your unique account ID. For every 1,000 UGX bet you make, you will earn points according to the following scale:
Earning points table
| MATCHES | 1-2 | 3-4 | 5-6 | 7-9 | 10-12 | 13-15 | 16+ |
| --- | --- | --- | --- | --- | --- | --- | --- |
| points | 1 | 2 | 3 | 4 | 6 | 8 | 10 |
Example:
You place a bet with 7 matches for 50,000 UGX. You earn 50 x 4 = 200 points.
You place a bet with 5 matches for 10,200 UGX. You earn 10.2 x 3 = 31 points because the system will round up the 30,6 into the nearest number.
You place a bet with 1 match for 1,400 UGX. You earn 1.4 x 1 = 1 point because the system will round down the 1.4 into the nearest number.
Using points
1 point = 1 UGX, if you have 2000pts = you can place a 2,000 UGX bet for FREE!!
Software Providers
ForteBet entered into a collaboration with APOLLO GAMES, a renowned Czech Republic-based company known for its expertise in developing Apollo slot machines. This partnership led to the replacement of Apex Machines with Apollo games, featuring enhanced software, improved graphics, and a captivating selection of high-definition games.
Furthermore, ForteBet boasts an exceptional online casino experience with a variety of popular games developed by Apollo Games. These games, such as Dice, Smiling Joker, Gangster, Lucky81, and Mad Mechanic, captivate players with their engaging gameplay and start with a minimum stake of 100 UGX. ForteBet's online casino is compatible with both Android and iOS devices, thanks to the well-developed software that ensures seamless functionality across different platforms.
Fortebet Uganda Mobile Version and App
The company has not created a mobile application, and there is no available APK file for download.
For online betting through your smartphone, the only secure approach is to access the mobile version of the Fortebet website via your device's browser. Rest assured that the mobile version is fully functional, providing access to all essential services and features offered by the bookmaker and online casino.
Fortebet Uganda Payment Methods
Fortebet casino offers payment methods to cater to the needs of its users. The platform supports both deposit and withdrawal methods, allowing users to easily fund their accounts and withdraw their winnings. The payment methods available on Fortebet Uganda, including:
MTN Mobile Money: With MTN Mobile Money, users can send and receive money, pay bills, purchase airtime, and access a range of other financial services using their mobile phones.
Airtel Money: Airtel Money Uganda provides a range of services, including sending and receiving money, paying bills, buying airtime and data, and accessing other financial services such as loans and savings products.
Fortebet Uganda Customer Support
Fortebet Uganda has a dedicated customer support team that is available 24/7 to assist users with any issues they may encounter while using the platform. The platform offers several customer support channels, including live chat, email, and phone support, ensuring that users can get in touch with the support team through their preferred communication method.
Live chat support is available directly on the Fortebet Uganda website and allows users to chat with a support agent in real-time. This channel is ideal for users who need immediate assistance and want to resolve their issues quickly.
Users can also contact the support team via email by sending a message to the platform's customer support email address. This channel is ideal for users who have complex issues or require detailed information and want to communicate through a written message.
Phone support is also available, and users can call the platform's dedicated customer support hotline to speak with a support agent directly. This channel is ideal for users who prefer to communicate through voice calls and want to get a quicker response than email support.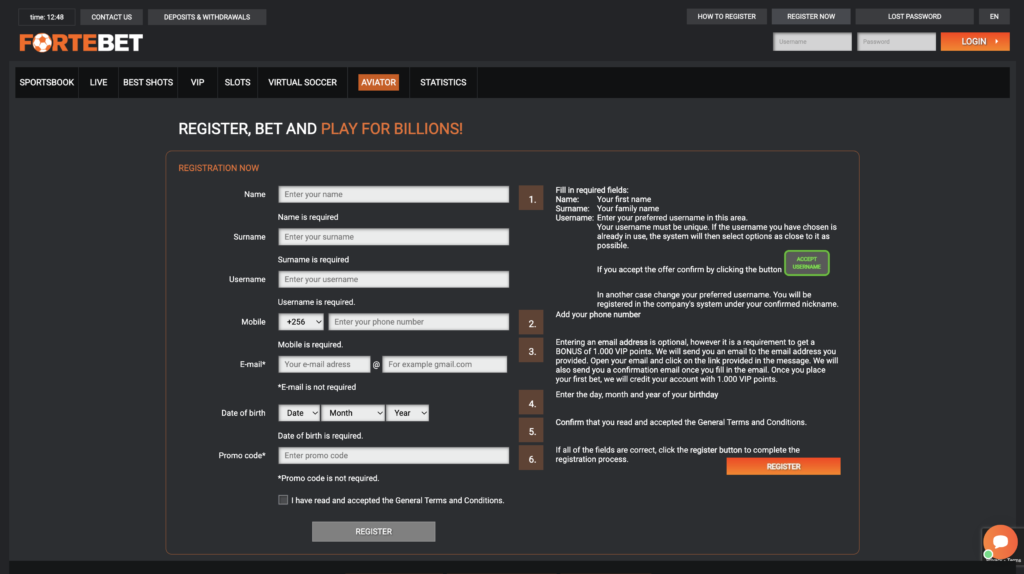 Fortebet Uganda Registration Process
The registration process for Fortebet Uganda is straightforward and can be completed in just a few easy steps. To register an account, follow these simple instructions:
Visit the Fortebet Uganda website and click on the "Register" button in the top right corner of the page.
Fill in the registration form with your personal information, including your name, email address, phone number, and date of birth.
Create a username and password for your account, and select your preferred currency.
Agree to the platform's terms and conditions and privacy policy, and confirm that you are at least 18 years old.
Click on the "Register" button to complete the registration process.
Once you have completed the registration process, you will receive a verification code via SMS or email to confirm your account. After verifying your account, you can log in and start using the platform.
To register an account on Fortebet Uganda, you will need to provide your personal information and a valid phone number or email address. You may also need to provide additional documents to verify your identity and age, such as a government-issued ID card or passport.
Conclusion
In conclusion, Fortebet Uganda is a reputable online betting platform that offers a wide range of sports betting and casino games to its users. With its user-friendly interface, reliable customer support, and secure payment options, Fortebet Uganda provides an excellent online gaming experience for both new and experienced users. The platform's mobile app and optimized mobile website also offer users the flexibility to place bets and play games on the go.